GLOBAL LIVE WEBINAR – 25TH FEBRUARY
Innovative ways of reducing Healthcare Associated Infections.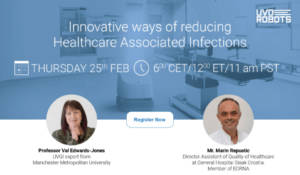 This webinar explores the challenges of Healthcare Associated Infections and the approach of effectively applying Ultraviolet Germicidal Irradiation  to prevent the amplification of infections sources.
ODENSE, Denmark – Healthcare Associated Infections (HAIs) represent a severe health risk for healthcare workers and patients leading to significant financial losses for the health system. A major factor to HAI's are Antimicrobial Resistant (AMR) Organisms as this "super bacteria" threatens effective prevention and treatment.
Conventional disinfections methods may not be sufficient to prevent the spread of AMR organisms. Ultraviolet Germicidal Irradiation (UVGI) has proven to be effective in eliminating AMR organisms and thus breaking the chain of infections.
Professor Val Jones, UVGI expert from Manchester Metropolitan University, addresses the challenge with AMR in hospital environments.
Mr. Marin Repustic, Director Assistant of Quality of Healthcare at General Hospital Sisak Croatia, a member of EORNA  will share experience of using a UVD Robot for environmental disinfection in Operating Theaters (OT) and an Orthopedic Department.
Explore how a UVD Robot can disinfect an OT in under 10 minutes, presenting the possibility of disinfecting UVGI between procedures.
Join this webinar and explore:
The importance of addressing the challenge of Antimicrobial resistant organisms.
How General Hospital Sisak Croatia is applying a UVD Robot for environmental disinfection in a OT and an Orthopedic Department.
The effective role that UV-C light can play to eliminate pathogens in the OT.
See how a UVD Robot can disinfect an OT in under 10 minutes.
Company contact:
Merima Cikotic, Head of PR & Marketing
T:  +45 7199 5606 | E: mc@blue-ocean-robotics.com